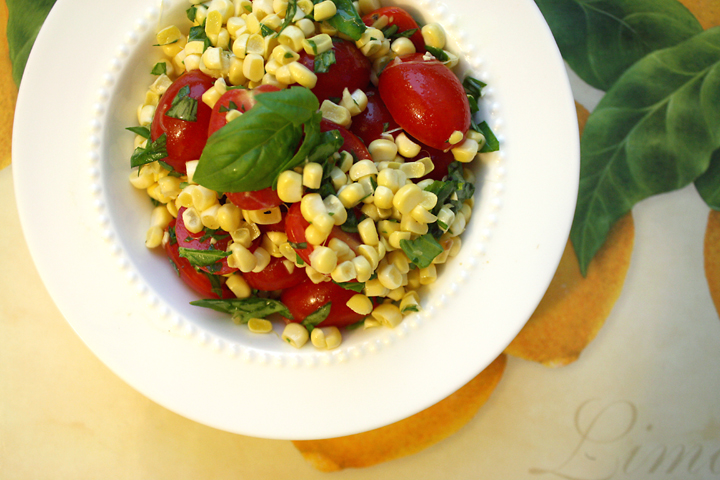 I apologize again for the lack of blog posts. I think this past week was the first time I went an entire week without posting and while it took some stress off of me, I was sad to break my post-at-least-once-per-week streak. Oh well, hopefully things will slow down after the wedding and gvive me more time to devote to this little blog. But on to the recipe…
Before the summer's bounty of sweet, juicy corn and bright flavorful tomatoes is gone, you MUST make this.
It's also a good way to use up some of the basil that's taking over your herb garden. If that's the case, I'm really jealous…I want a garden so badly.
I would create an indoor herb garden but my cat would eat everything I grew and then probably throw it up all over my living room. Does anyone have a solution for growing things indoors when there are cats around? One of my friends suggested maybe hanging the herbs in containers on the wall. That could definitely work, I'm just trying to figure out what type of containers I could use. Also, my apartment walls don't take screws very well, only nails, so it'd have to be lightweight. I dunno if it's worth the effort.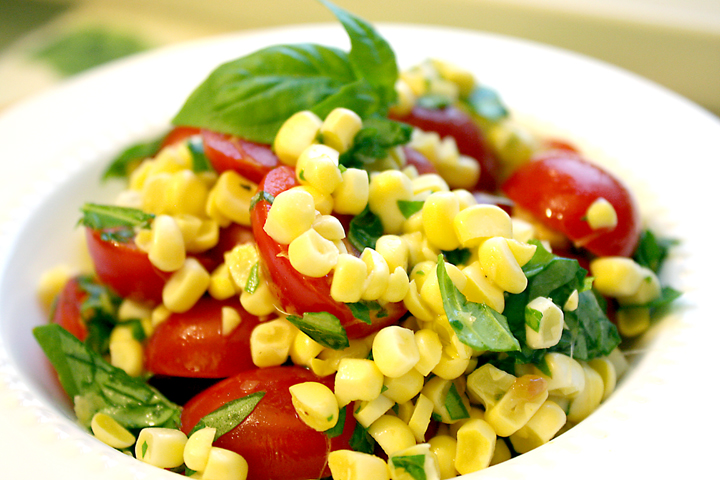 Aaaanyway…the original recipe I based this from also added mozzarella and scallions to the dish, but I don't like scallions and I really wanted this to be a nice fresh, low-cal side dish. I thought the cheese was unecessary since I'd be serving protein with it anyway.
It resulted in the most delicious, juicy, fresh summer salad you could imagine. I LOVE basil. Honestly, I think I could sprinkle a shoe with basil and it would taste summery, although this probably tastes a bit better than that. Nate and I couldn't stop raving about this simple little dish.
Make this alongside some fish or chicken for your next meal!
Oh and I almost forgot to mention, you NEED this tool in your kitchen if you don't already have it:
http://www.williams-sonoma.com/products/kuhn-rikon-corn-zipper/
I used to think this was stupid because you could just use a knife to strip all the kernels off. But after making a lot of corn recipes this summer and having the kernels fly all over the kitchen (I know you know what im talking about), I sucked it up and bought one. Actually I used a gift certificate so I didn't even feel guilty about it.
Anyway, this could be one of my all-time greatest kitchen purchases. Seriously. It makes it SO much quicker, neater, and easier to de-kernel your cobs!
Fresh Corn and Tomato Salad with Basil
Adapted from the Food Network
3 tablespoons white wine vinegar
2 teaspoons kosher salt
Freshly ground black pepper
1/4 cup extra-virgin olive oil
6 ears fresh corn, husked (about 4 cups corn kernels)
2 cups red or orange grape tomatoes, halved
1 1/2 cups fresh basil leaves, chopped
Whisk the vinegar, salt, and pepper in a small bowl. Gradually whisk in the oil, starting with a few drops and then adding the rest in a steady stream, to make a smooth dressing.
Shear off the corn kernels with a sharp knife over a bowl. Toss in the tomatoes. Pour the vinaigrette over the salad and toss to coat. Cover and let set for 15 minutes or up to 2 hours (even good immediately!). Before serving stir in basil.