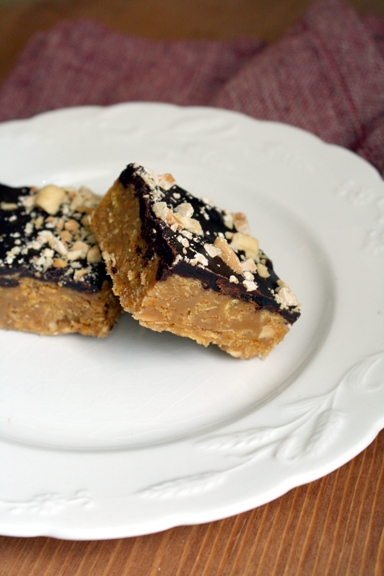 Yep, I'm back with another oven-free recipe. You do need to turn on the stove but only for all of 10 minutes max.
I found this recipe at one of my favorite sites: Serious Eats. Their recipes are, from my experience, well-tested and reproducible.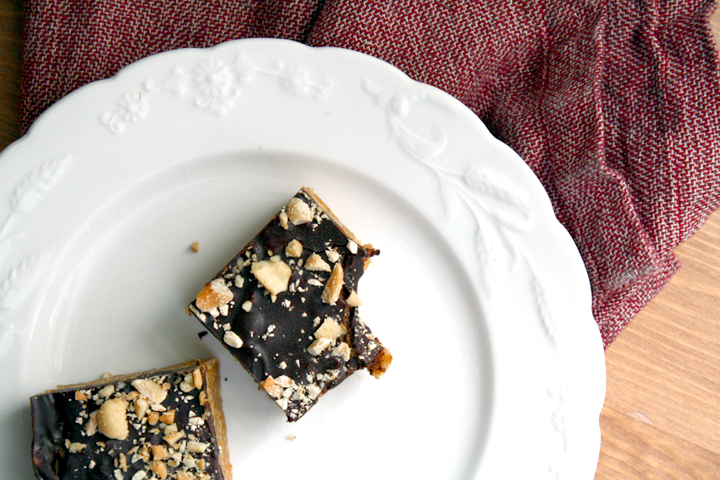 I made these for a little impromptu dinner party I had. One of my friends came over because she is contributing to the little video Nate is making to show at the wedding. I can't wait to see the finished product…it's going to be amazing :)
Anyway, these are seriously awesome, and incredibly rich. I sent my friend and her husband home with extras to take to their 4th of July party and they were thrilled. Mostly because we were too full from dinner to really enjoy them that night.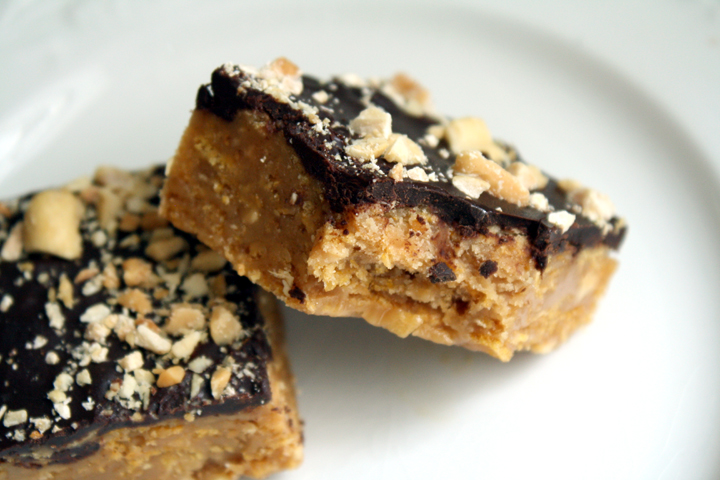 They're kind of somewhere in between a rice krispie treat and a buckeye ball. You have to keep them refrigerated but they stay soft straight out of the fridge and they stick together really well.
Speaking of sticking together, here's a little something my soon to be mother-in-law shared with me. I knew I liked elephants for a reason! You have to watch til the very end…sooooo cute!!!: http://www.youtube.com/embed/f_gBWPs4r3U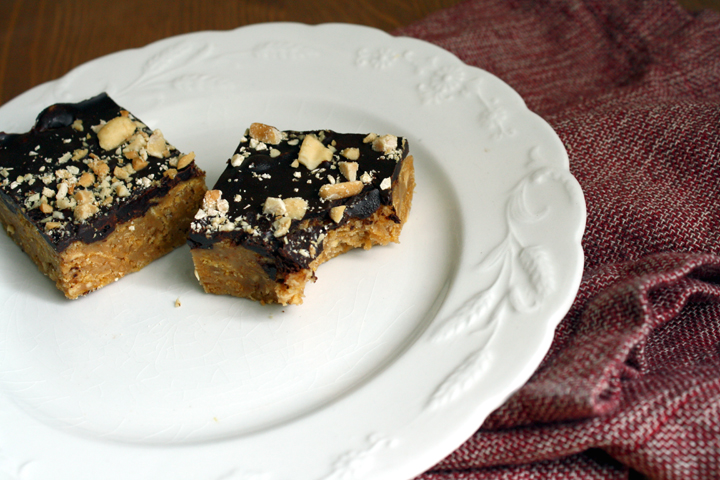 No-Bake Crispy Corn Flake Chocolate Peanut Butter Bars
From Serious Eats
makes 16 (2 inch)squares
4 tablespoons (1/2 stick) unsalted butter
1 cup creamy peanut butter
1/2 cup light corn syrup
1/3 cup light brown sugar
Pinch salt
4 cups corn flakes, lightly crushed
1/3 cup salted peanuts, chopped and divided
1 teaspoon pure vanilla extract
4 ounces bittersweet chocolate, finely chopped
Line 8- by 8-inch baking pan with foil. In medium saucepan over medium heat, melt butter. Add peanut butter, corn syrup, brown sugar, and salt and continue to cook, stirring, until melted and smooth.
Stir in corn flakes, 1/4 cup peanuts, and vanilla until just combined. Spoon into prepared pan and smooth top.
In heatproof bowl over pan of barely simmering water (or in microwave), heat chocolate until just melted. Spread over top. Sprinkle with remaining chopped peanuts.
Chill until firm, about 2 hours. Remove from pan and cut into 2-inch squares.