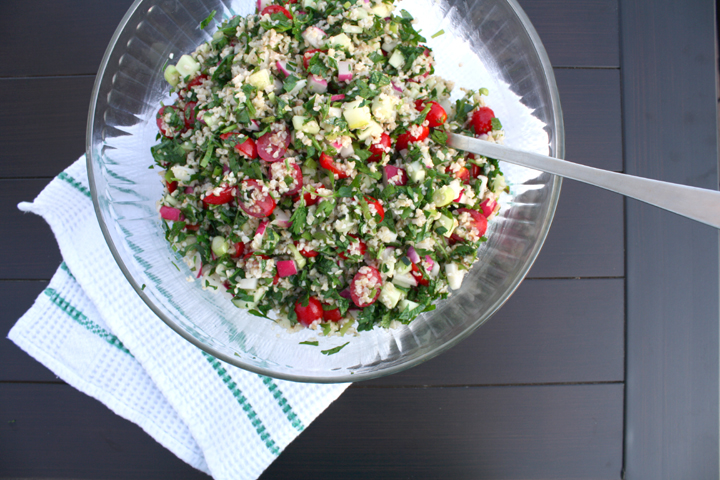 If you like chopping vegetables, then this recipe is for you.
Nate and I headed down to his mom's for Memorial Day weekend, and as always I took advantage of her giant kitchen with ample counter space to make lots of recipes.
I love having room to spread out! I literally had every square inch of the counter covered with ingredients for three different recipes I was making at once. It's such a nice change from our little apartment kitchen where I have to clean as I go (something I'm horrible at) if I want any hope of keeping some semblance of order in the kitchen.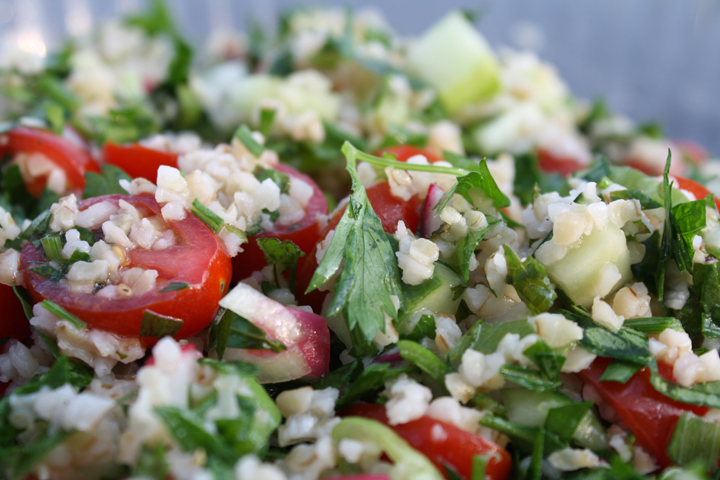 I will be SO happy when we move to a house with *hopefully a nice big kitchen! Unfortunately, we just signed our lease for another year, so it'll be at least a year til my dream comes true.
Anyway, this salad isn't quick to make. There are a lot of vegetables to chop…and not just any vegetables, but small vegetables. I wish there was an easy way to chop small things.
I did use Rachel Ray's tip for cutting cherry tomatoes. She kind of annoys me sometimes, but in this case, she's a freaking genius. This is hands-down the best time-saver EVER.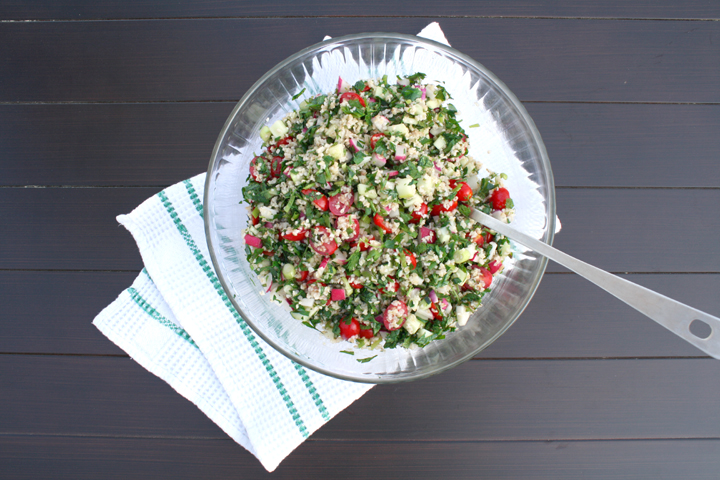 Speaking of Rachel Ray, did I ever tell you guys I was in the audience of the Rachel Ray show, and they kept panning the camera to me. It was my 15 minutes (okay, seconds) of fame :) You can see it here…if you go to minute 1:50, you can see me!
Try to ignore the fact that I look directly at one of the cameras. I'm not an actress, folks. I was beckoning to the camera man. I'm also in the other segments from show that day, which you can find here. They loved me!
Ok, so back to the recipe. This may be time-consuming, but when all is said and done, it's so colorful, fresh and delicious!
Be aware that this makes a lot of Taboulli. Perfect alongside your summer barbecues or for a light lunch!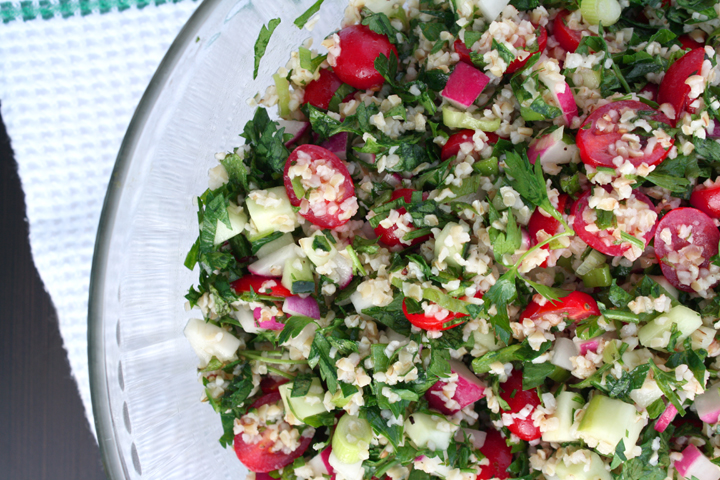 Tabouli
From Mom's recipe box (i.e. source unknown)
Serves 8-10
1 cup bulgur, uncooked
1 cucumber, diced
2 tomatoes, diced (or 2 handfuls cherry tomatoes, cut in half)
1 bunch radishes, chopped in 1/4 dice
3/4 cups scallion, sliced
1/2 cup fresh mint, minced
1/2 cup fresh parsley, minced
1/2 cup olive oil
1/2 cup lemon juice
salt and pepper to taste
Wash bulgur in cold water til water runs clear. Place in bowl, cover with 4 cups boiling water. Mix and let stand 30-40 min.
Drain bulgur and squeeze out excess moisture. Place in clean bowl
Add rest of ingredients. Adjust seasonings.