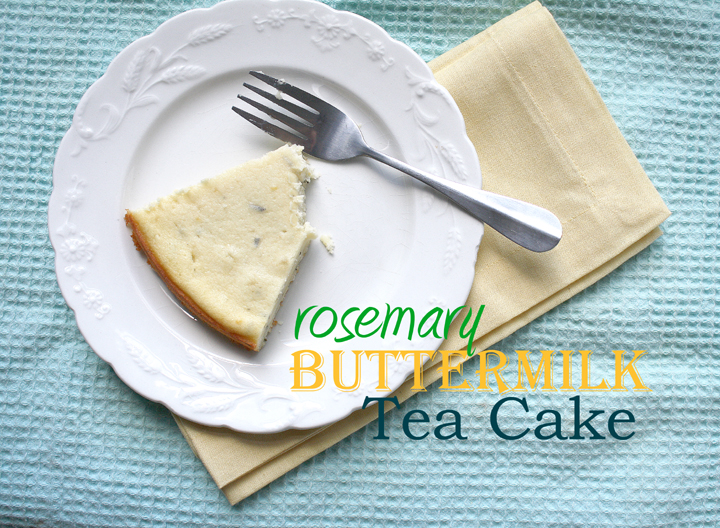 I hate wasting food.
Before I met Nate I would try to serve myself small portions of food, but with my eyes being bigger than my stomach, there would always still be too much for me on the plate. Since I hated wasting food, I would force myself to eat the last few mouthfuls rather than wasting it. (Don't ask me how I developed this behavior since my mom never enforced the "clean plate" rule!)
Luckily Nate's active lifestyle gives him an endless appetite. Now, rather than forcing myself to eat something, I just put it on his plate :) This solves the problem of having little bits of meal leftover, but it still doesn't solve the problem of leftover ingredients.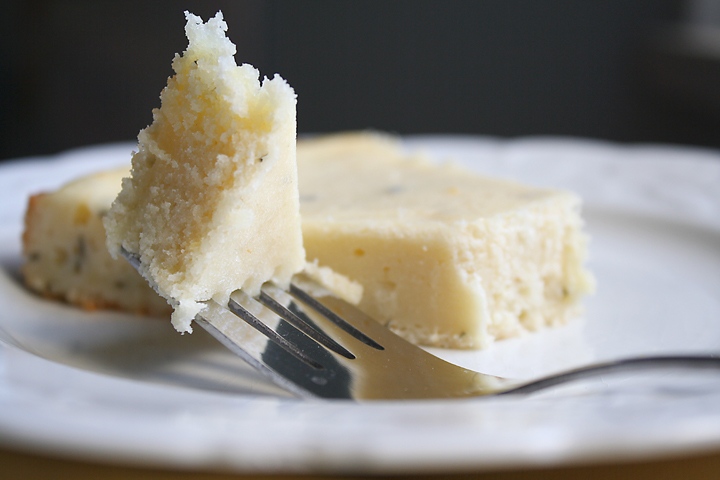 Obviously if a recipe calls for buttermilk, or fresh rosemary, you will have copious amounts left. I had both ingredients sitting in my fridge (courtesy of some baked buttermilk rosemary chicken) for over a week because I refused to get rid of them.
I knew those two ingredients happened to be a perfect combo for something sweet and so I finally got myself to mix them together into a lovely cake.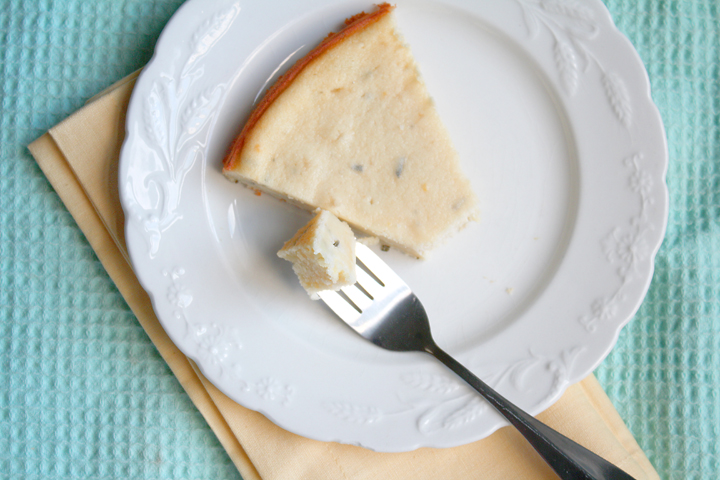 This cake is light (in texture, not in calories), not overly sweet, and perfect for brunch with a cup of tea! The rosemary flavor is strong, but I love it that way. If you're not as big a fan of rosemary, feel free to cut back.
I couldn't stop myself from eating this. It's so buttery, soft and flavorful.  I honestly don't know what a tea cake is, but this is what I'd imagine :) The perfect thing to go with your Mother's Day brunch!
And with your leftover buttermilk and rosemary, you can perhaps invent something even better!
Happy Mother's Day to all the moms out there!!!
Rosemary Buttermilk Tea Cake
Serves 8
1 1/2 cups all-purpose flour
3/4 cup sugar
1 stick unsalted butter, softened
1 tsp lemon juice
zest of 1/2 lemon
1 Tbsp fresh rosemary, chopped (you can use less if you're not a huge rosemary fan)
1 tsp baking powder
1/2 tsp salt
1 cup buttermilk
2 eggs
Preheat oven to 350 degrees. Coat a 9 or 10″ pan with cooking spray. (*Note, the 9 inch will be taller than mine. I should have used a 9″. A springform would be perfect but a regular cake pan is fine)
Cream together the butter and sugar until very light and fluffy, then add the eggs one at a time, beating well after each addition. Add the lemon  juice, zest, and rosemary and continue beating until batter is smooth and combined.
Whisk together flour, baking powder, and salt in another bowl and add alternately with the buttermilk to the butter and sugar mixture.
Beat until smooth, then pour batter into your greased pan, smoothing out the top with a rubber spatula.
Bake cake for 40 minutes until edges are golden and begin to pull away from the sides of the pan. Let cool and serve room temperature or slightly warm.
You could make a glaze for this cake if you wanted by mixing some milk with powdered sugar, but I thought it was sweet enough as is, especially to be served with brunch.
*Note, if you must make this the day before and refrigerate, make sure it comes to room temp or warm it up before serving. It's not the right texture when cold (although weirdo Nate likes it better cold and dry).