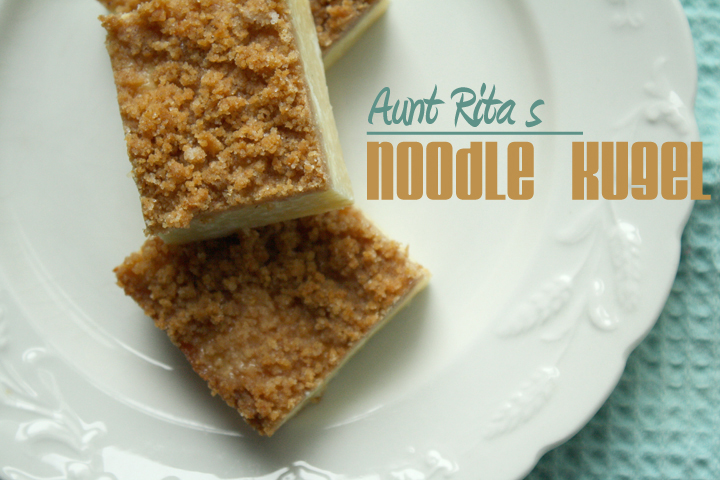 This is one of my family's most important and delicious recipes. For us, it originated with and has thus been named after my Aunt Rita, although I'm not sure where she got it from originally,  But what's important is that once she found it, she saved it!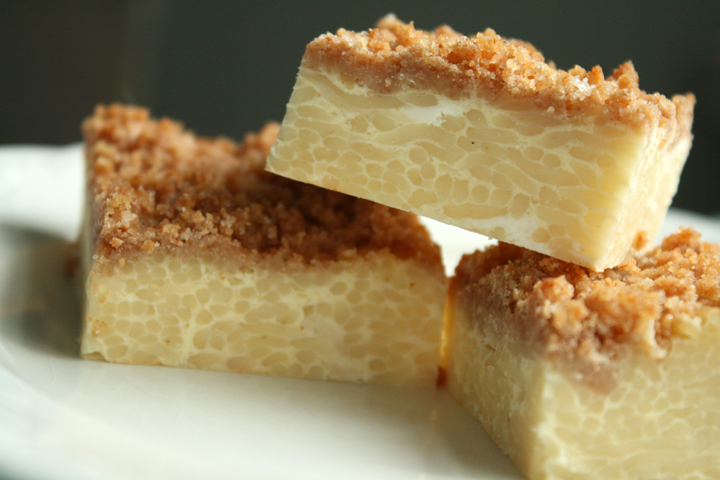 This isn't a traditional noodle kugel recipe. For one thing, it has no fruit in it, and the noodles are angel hair rather than thick egg noodles.
In addition, it has the addition of three forms of dairy products (four if you count the butter). The consistency comes out like a hybrid of a kugel and a cheesecake and it is topped with THE MOST buttery, delicious graham cracker crumb topping.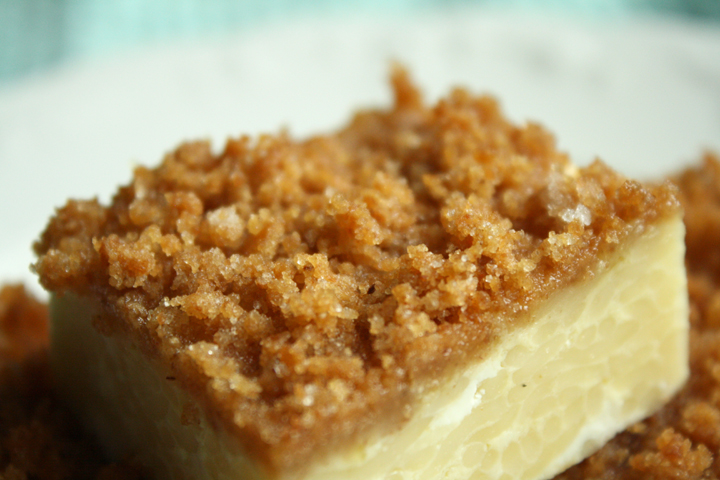 You don't even need to save it for Jewish holiday dinners, although that's when we usually make it.
I know it's not much to look at, but people I'm telling you, I could seriously eat this for every meal for the rest of my life and I would never get sick of it, although my thighs might protest- it's more like a dessert than a meal from the calorie perspective.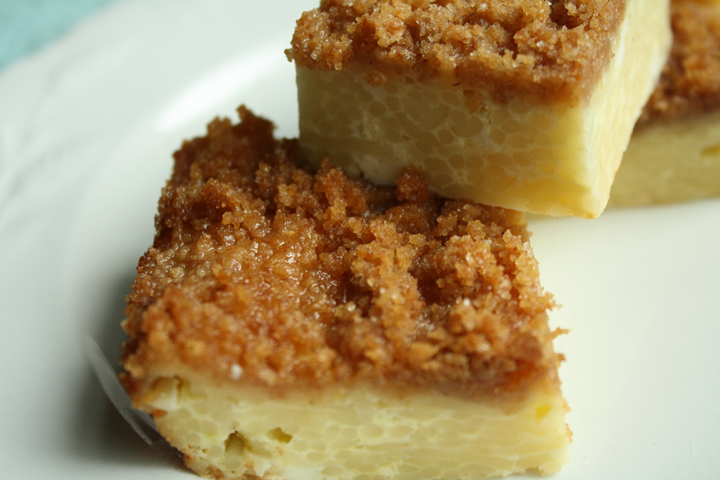 *Note that if you make it, yours will be slightly thicker than mine…I halved the recipe and made it in an 8×8 pan which is a little too large for half a recipe.
Recipe is at the bottom of the post!
In case you couldn't figure it out, May is #pastalove month!
Please join in on the #pastalove fun by linking up any pasta recipe from the month of May 2012. Don't forget to link back to this post, so that your readers know to come stop by the #pastalove event! The twitter hashtag is #pastalove :). 
I'm hosting along with these other fine folks:
Astig Vegan, Badger Girl Learns to Cook, BigFatBaker, Bon à croquer, Cake Duchess, Hobby And More, Mis Pensamientos, No One Likes Crumbley Cookies, Oh Cake, Rico sin Azúcar, Simply Reem, Soni's Food for Thought, Teaspoon of Spice, That Skinny Chick Can Bake!!!, The Spicy RD, The Wimpy Vegetarian, Vegetarian Mamma, You Made That?, Vegan Yack Attack
Please link up your recipe below :)

Click here to enter your link and view this Linky Tools list…
Aunt Rita's Noodle Pudding
From Aunt Rita
Serves 12
1/2 lb. fine egg noodles, cooked and drained (I usually use regular angel hair pasta)
1/4 cup unsalted butter, room temp
1/2 cup sugar
8 oz. cottage cheese
4 oz. cream cheese, room temp
8 oz. sour cream
4 eggs, lightly beaten
1/2 tsp vanilla extract
1/2 tsp lemon juice
1/4 tsp salt
Topping:
1 cup graham cracker crumbs
3 Tbsp sugar
4 Tbsp unsalted butter, melted
Preheat oven to 350 degrees.
In a large bowl, combine noodles, butter, sugar, cheeses, eggs, vanilla, lemon juice, and salt. Mix well.
Pour into buttered 9×13 baking dish.
Mix together the crumbs, sugar and melted butter. Sprinkle evenly over the noodle mixture.
Bake 45 minutes to 1 hour, until golden on top.
Remove from oven and let set 15 minutes at room temp before cutting into squares.
Serve hot or at room temperature.