I have the most romantic fiancé ever…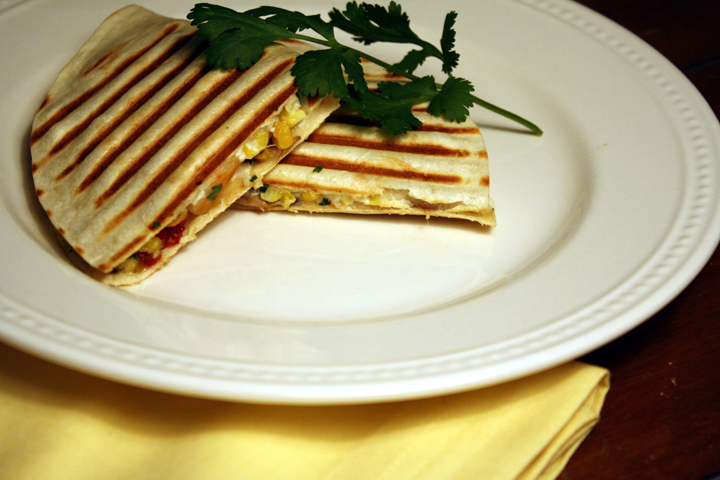 The other day at work, Nate and I were talking on gchat and he asked me what I was making for dinner:
me: why don't you get a pizza for dinner
Nate: im just not sure i want pizza
me: well how do you know you'd be in the mood for whatever i made for dinner?
Nate: i can't make these decisions anymore
thats why i'm getting married
so i don't have to
my food thinking days are over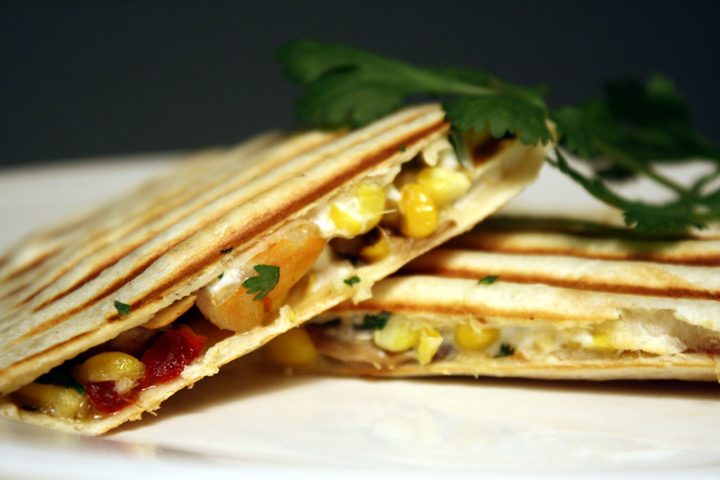 If that's not a reason to get married (to someone you had a "good" date with), I don't know what is.
Since Nate never has any idea what he wants for dinner, I have to come up with these things myself.
I knew I wanted to use my new panini press, one of my bridal gifts!! I immediately thought of quesadillas and tried to figure out what else was in my fridge.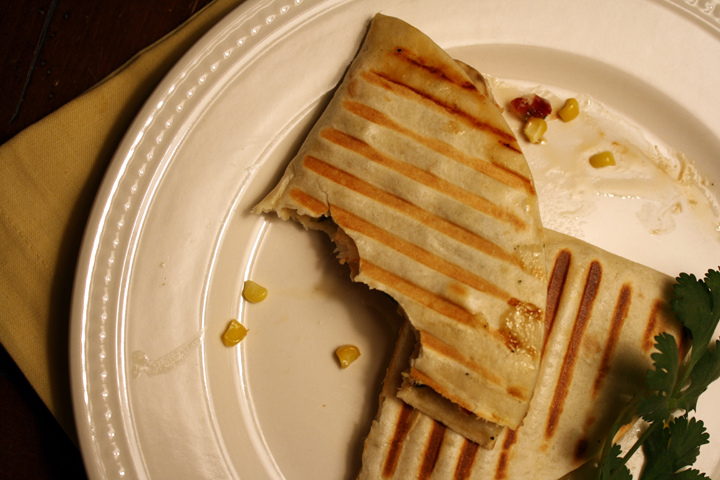 I had that goat cheese I've been meaning to use, plus some Trader Joes Red Pepper Jelly that I haven't tried yet (courtesy of Nate's mom). For some reason I knew I wanted roasted corn too, and then I threw in mushrooms to add some more veggies and sauteed shrimp for protein.
Before I knew it, a delicious quesadilla was born.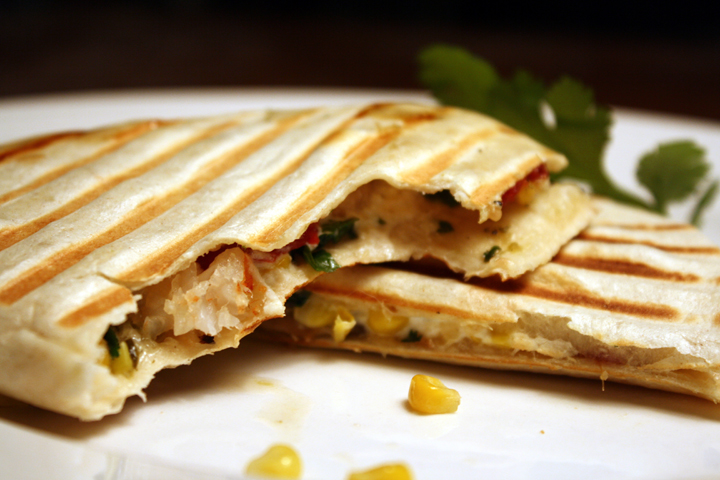 Since Nate doesn't mind making me come up with dinner ideas and cooking every day, I didn't mind hiding some chopped up shrimp, his most hated of foods, into this tasty meal :)
Had it not been for a small piece of shrimp falling out of these very messy quesadillas, Nate never would have known.
And you know what? He saw it fall out and kept eating. They were THAT GOOD people!
Roasted Corn, Shrimp, Mushroom and Goat Cheese Quesadilla with Red Pepper Jelly and Salsa Verde
Recipe by Me
makes 4 quesadillas
*Note: amounts are not exact, as it really depends what you like
4 tortillas
15ish small shrimp
3 ears corn, kernels cut off (about 1 cup kernels I think?)
Olive oil
8 oz. sliced mushrooms
Cilantro
3-4 oz. crumbled goat cheese
Salsa verde (any jarred version is fine, or you could make your own)
salt and pepper to taste
1/4 cup Red Pepper Jelly
Toss corn kernels with some oil, spread on a foil-line baking sheet, and sprinkle with pepper.
Broil corn kernels, keeping an eye on them, until lightly browned. Set aside.
Put about a teaspoon of oil in a grill pan or skillet and heat over medium heat. Add mushrooms and cook, stirring until they begin to soften. Add a tablespoon of salsa, stir, and push to one side of the pan.
Toss shrimp with olive oil, cilantro, salt and pepper. Add shrimp to the empty half of the pan containing the mushrooms.
Flip shrimp over when the bottom side turns pink, and continue cooking another minute or two until entire shrimp is pink.
Remove shrimp from pan and cut each into quarters.
Remove mushrooms from heat and set aside.
Put 1 tortilla down. Spread half with about 1 Tbsp red pepper Jelly. Sprinkle 3-4 shrimp (9-12 chopped pieces) evenly over the jelly. Top with 1 Tbsp mushrooms and about 3-4 Tbsp corn. Sprinkle with an ounce of goat cheese, cilantro and 1 Tbsp salsa verde. (Amounts are all approximate and can vary based on your taste)
Fold tortilla over the filling and cook in a panini press for a few minutes or until crispy on outside and cheese is melted.
Cut in half and enjoy!