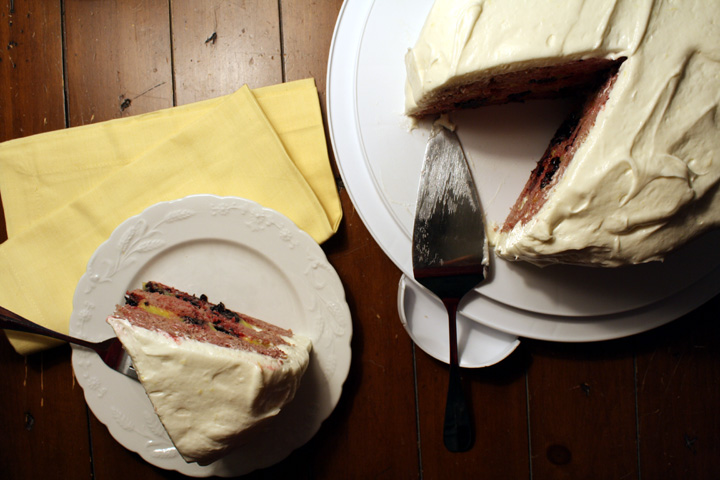 Sorry I haven't posted in a while. My grandpa passed away last week and I've been spending time down in Florida with my family. As sad as it is that he wasn't there with us, it was really nice to see everyone all in one place. It doesn't happen often that we're all together.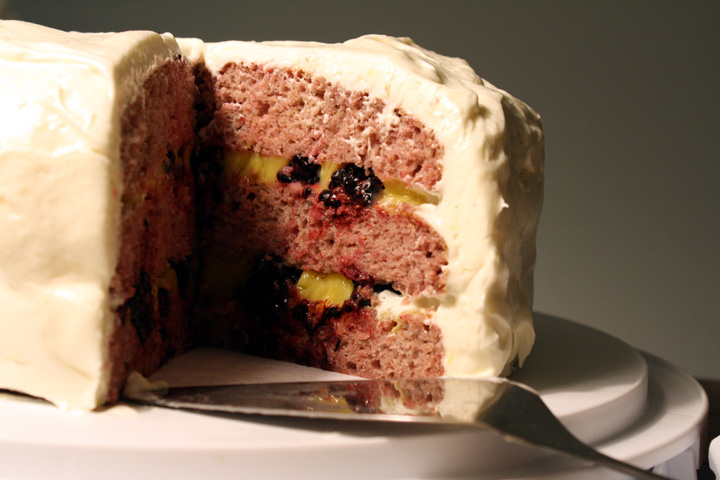 My grandpa had been wanting our whole family (aunts, uncles, cousins) to get together for his and my grandma's 60th anniversary and earlier last year we had been planning to take a trip somewhere together. After he got sick he knew that trip would never happen and really was just hoping he could at least make it to my wedding in October. It's sad that we were all finally able to be together and my grandpa couldn't join us. And my wedding will definitely feel like there's something missing.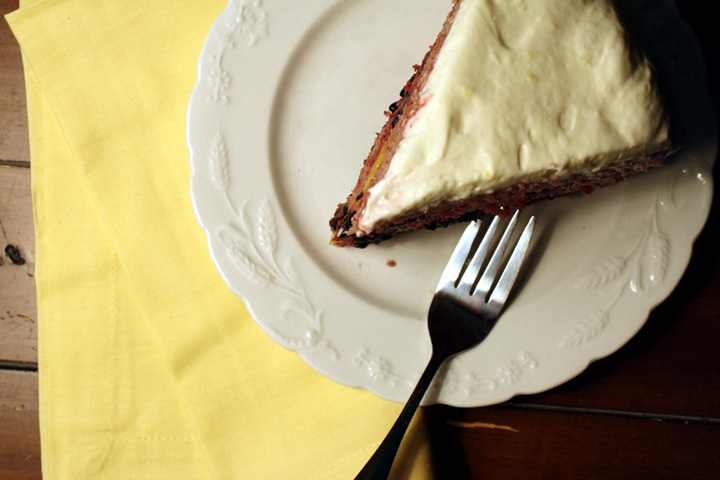 This month's bloghop ingredient is berries. I really wanted to bake up something that my grandpa would have loved.
His and my birthday were only 2 days apart so either my mom or I would bake a cake every year and the two of use would celebrate together, blowing out the candles on our cake.
I contemplated baking a carrot cake because I remember how much he loved when we made a carrot layer cake for his birthday, complete with cream cheese frosting. I also remember a time we made a white cake with lemon curd filling and blueberries- the only berry he would eat because he hated seeds getting in his teeth.
I kind of combined the two and made a raspberry cake (I think he wouldn't have minded the seeds are baked in but you could easily strain them out), with lemon curd filling and a cream cheese frosting. There were no good blueberries so I used blackberries in this filling.
I think my grandpa would have loved this cake. I miss him already.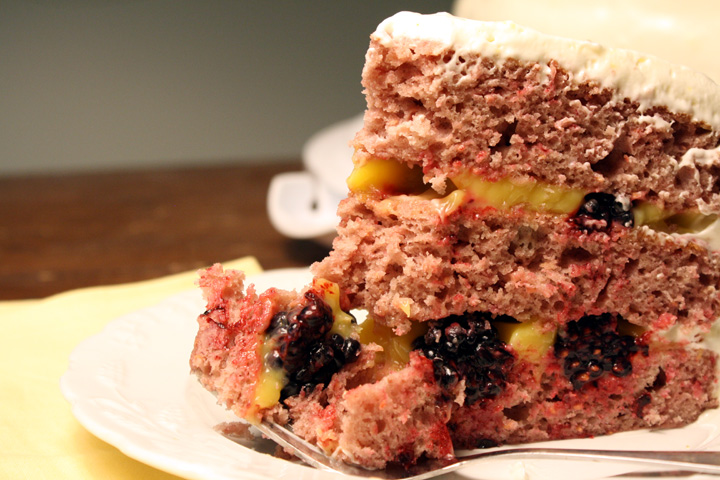 I'm posting this as part of the #berryove April bloghop. I'm co-hosting with the following:
A little bit of everything, Baker Street, Baking and Cooking, A Tale of Two Loves, BigFatBaker, Bon à croquer, Cake Duchess, Easily Good Eats, Georgie Cakes, Hobby And More, Java Cupcake, Mis Pensamientos, No One Likes Crumbley Cookies, Oh Cake, Queen's Notebook, Rico sin Azúcar, Simply Reem, Soni's Food for Thought, Teaspoon of Spice, That Skinny Chick Can Bake!!!, The Art of Cooking Real Food, The Wimpy Vegetarian, Vegan Yack Attack, Vegetarian Mamma
Please join in on the #berrylove fun by linking up any berry recipe from the month of April 2012. Don't forget to link back to this post, so that your readers know to come stop by the #berrylove event! The twitter hashtag is #berrylove :). See below recipe for linkup!
Raspberry Cake with Lemon Filling and Cream Cheese Frosting
Cake adapted from DixieMockingbird, frosting from my Valentine's Day Cake
Makes one 9 inch 3-layer cake
Cake Ingredients:
parchement paper:
butter and flour – for the cake pans
3 cups all purpose flour
2 cups granulated sugar
1 Tbsp + 1 tsp baking powder
1/2 tsp salt
3/4 cup vegetable oil
1 1/2 cup raspberry puree* (I used about 1.5 12 oz bags of frozen berries, thawed)
1 teaspoon vanilla extract
4 large eggs, beaten
2 pints fresh raspberries (i used blackberries because raspberries were ridiculously expensive)
8 oz lemon curd ( I bought some but you could easily make it)
*For raspberry puree – simple run two to three cups of raspberries through the blender or food processor until very smooth. You can strain the puree to remove seeds if you wish, but I didn't
Frosting Ingredients:
8 oz. of 1/3 less fat cream cheese, room temperature
4 oz. butter, room temperature
1 tsp vanilla
zest of 1 lemon
2 cups confectioners sugar
8 oz. containter of non-dairy whipped topping (I used Cool Whip Free)
Preparation:
Preheat oven to 325F. Butter and flour three 8 inch cake pans, and set aside.
In a medium bowl, combine flour, baking powder and salt.
In a large mixing bowl, whisk together sugar, vegetable oil, raspberry puree, vanilla, and eggs.
Gently whisk in the flour mixture until just combined.
Evenly divide the batter evenly among the prepared cake pans. Bake in preheated oven for 20 minutes or so. The tops of the cakes should be springy to the touch, and a cake tester (aka wooden toothpick or skewer) inserted into the center of each cake should come out clean.
Allow cakes to cool in their pans for 10 minutes, then turn cakes out onto wire cooling racks to cool completley. You can frost them once they reach room temperature, but it is better to chill the cakes for at least an hour before assembling and frosting.
While cake is cooling, beat cream cheese, butter, vanilla and lemon zest with an electric mixer. Beat in confectioners sugar. Fold in cool whip.
Place one cake layer on a plate. Spread half of lemon curd on cake. Place enough raspberries to cover.
Place next cake layer on top and press down, smushing raspberries. Spread rest of lemon curd on cake and place raspberries on top.
Place top cake layer on top and press down again. Dump frosting on top of cake and spread evenly over sides. You may not need all the frosting. Refrigerate cake before cutting to firm up the frosting.