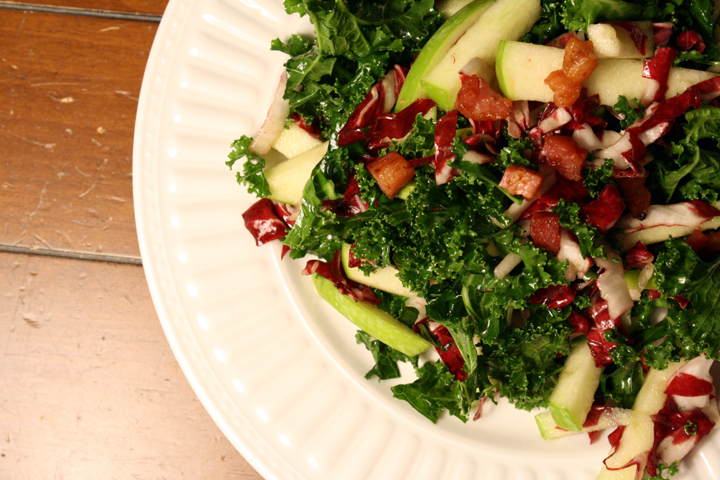 It seems like Kale is the 2012 super food. I mean I know it existed before that, obviously, but everywhere I turn, I've been seeing recipes for it.
Usually I'm not a fan of raw kale since it's a lot tougher than a typical salad leaf. I like to sauté or braise it. But I found this recipe  for Kale, Apple and Pancetta Salad in one of my trusty food emails the other day and thought it sounded too good to pass up.
Most of the recipes I had seen for kale in salad called for massaging it. Yep, you read right. While you're peeling and chopping those poor other veggies, lucky Kale is getting a rub down.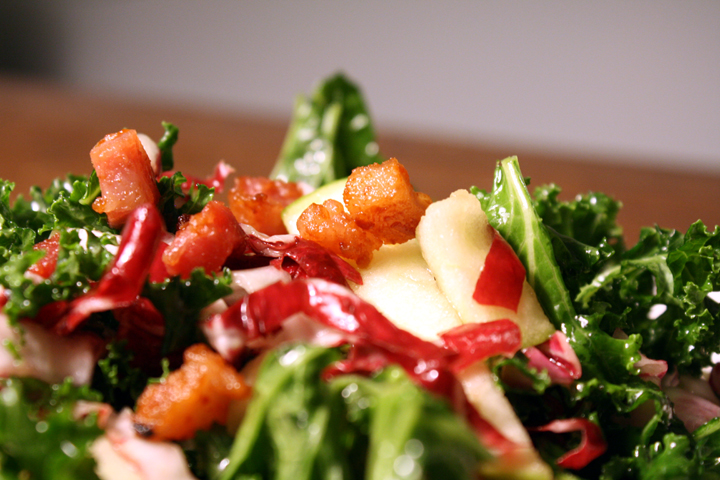 Massaging kale is actually some sort of a scientific process. You add some oil/dressing, grab bunches of it in both hands and squeeze. Then rub them together. And repeat. The tough cellulose structure breaks down and the leaves wilt. The leaves will darken and shrink to almost half their pre-massage volume.
This salad actually didn't call for such a technique, although I think it could have used it. Nate might have gotten a bit jealous though ;)
In the end the flavors were totally delicious but I think if I made it again I would either massage it or lightly saute just the greens before mixing it with everything else. And oh my, the pancetta MADE this salad. If you don't eat pork, you must substitute something else similar (maybe turkey bacon), as it just wouldn't be the same without that saltiness.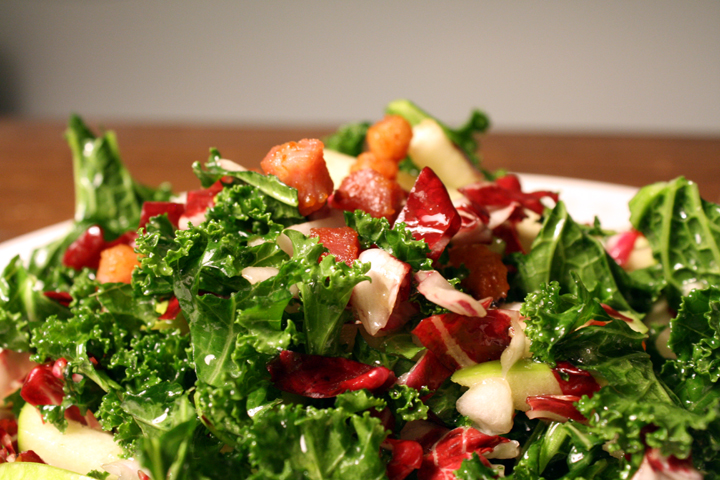 I'm posting this as part of the #greenslove March bloghop hosted by:
Al Dente Gourmet, Astig Vegan, Badger Girl Learns to Cook, Baking and Cooking: A Tale of Two Loves,BigFatBaker, Bon a Croquer, CafeTerraBlog, Cake Duchess, Cheap Ethnic Eats, Easily Good Eats,Georgiecakes, Kitchen Belleicious, Mis Pensamientos, My Twisted Recipes, No One Likes Crumbley Cookies,Oh Cake, Queen's Notebook, Rico Sin Azucar, Savoring Every Bite, Simply Reem, Soni's Food for Thought,Sprint 2 the Table, Teaspoon of Spice, That Skinny Chick Can Bake!!!, The Art of Cooking Real Food, The Spicy RD, The Wimpy Vegetarian, Vegan Yack Attack, Vegetarian Mamma.
I didn't get my stuff together early enough to host with them this month, but hopefully I will in April!

Here are the rest of the entries!:

Kale Apple and Pancetta Salad
Taken from Serious Eats
Serves 4-6
1/3 cup extra virgin olive oil
4 ounces sliced pancetta, diced
1/4 cup Champagne vinegar
1/4 cup pure maple syrup
1/4 teaspoon salt
1/4 teaspoon freshly ground black pepper
1 small head radicchio, shredded
1 8-ounce bunch kale, stems discarded, leaves shredded
2 tart yet sweet apples, sliced into thick matchsticks
3/4 cup pecans, toasted if desired
Combine the olive oil and pancetta in a small saucepan over medium heat. Cook, stirring frequently, until pancetta is golden and crispy. Strain the pan drippings into a small bowl and leave the crispy pancetta off to the side to cool. Add the Champagne vinegar, maple syrup, salt and pepper and whisk well.
Combine the radicchio, kale, apples and pecans in a large bowl. Toss while adding the dressing, little by little, until salad is well dressed. Taste and adjust seasoning with salt and pepper. Garnish with crispy pancetta.