The goal of the Pinterest Challege, is to make one thing each season that's inspired by all the gorgeous stuff that we've pinned on  Pinterest!
The Pinterest challenge is hosted by:
Sherry from Young House Love
Katie from Bower Power Blog
Erin from The Great Indoors
Cassie from Hi Sugarplum
You may remember I participated in this challege last summer and made myself a jewelry holder! I have to confess that as gorgeous as that jewelry holder looked, it hasn't been working out quite so well. The earrings are very precariously hanging and I need to have a way for them to stay better so they don't all fall off every time I touch it. If you have any ideas, please let me know! I've already lost an earring that fell off and I have no idea where it went.
Aaaaaanyway, so this time I knew what I wanted to do way ahead of time. You see, during my Pinterest browsing, I came across this really cool bird made out of buttons.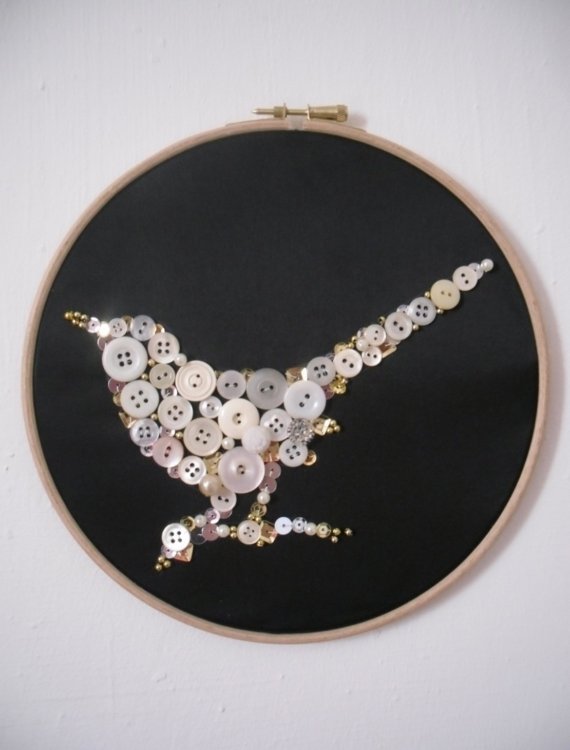 I knew that it would be a perfect Christmas present for Nate's mom (she loves birds), if I could figure out how to make it.
First I went online and did endless searching for a pretty bird silhouette. I decided that I wanted mine to have a prominent branch, unlike the inspiration. This is the image I found, although I actually ended up flipping the image, blowing it up, and cropping it so it fit nicely on my 8″ embroidery hoop.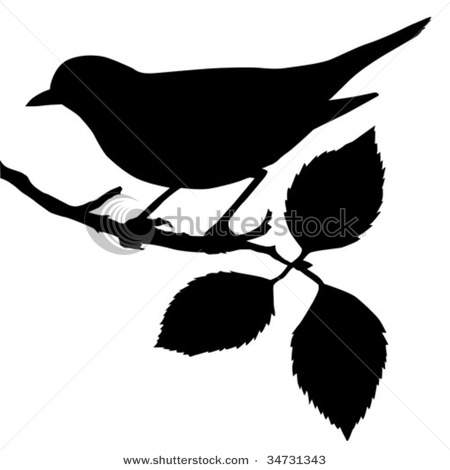 Sorry, I have no progress photos…I didn't think about it :(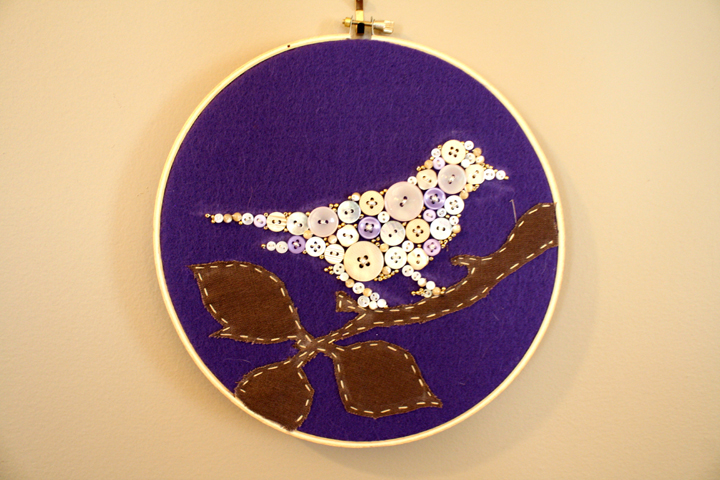 Next I ventured out to the fabric store to get fabric and thread for the branch. I knew I wanted felt for the background and picked purple since Nate's mom loves that color. I ended up finding a small piece of it at Michaels. I would have liked a lighter purple but ended up just going with lighter buttons instead.
Finally, I had to figure out where to get all those buttons. I ended up finding this button store on the Upper East Side in nyc called Tender Buttons, which admittedly was probably not the best place to go. The buttons were gorgeous, with a huge selection of colors, but also super expensive and mostly fancier than I was looking for. 100 something dollars later, I left with my purchases in hand :( I just told myself that since this was a present anyway, it was ok to spend a little more than I was expecting.
I also ended up going online and found some cheaper buttons to throw into the mix. I have to say that the pricey buttons were gorgeous and probably worth the $$ but it was nice to mix it up with different shapes/sizes/colors.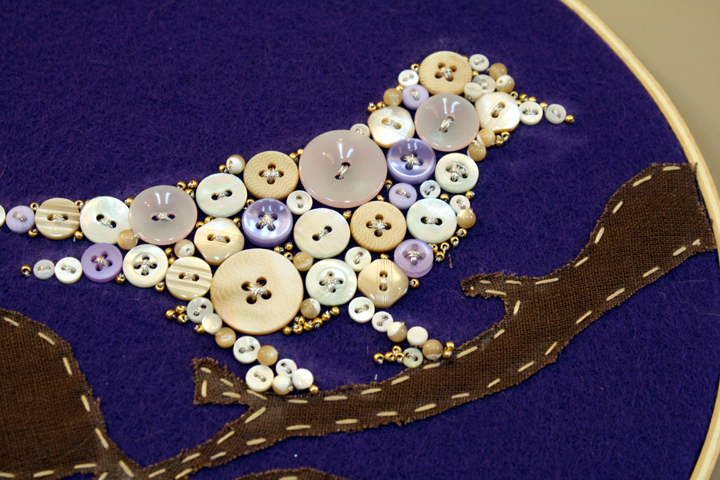 Ok, on to the actual process:
First I put the felt in the embroidery hoop and stretched it as much as I could. The hoop was really loose and I don't know if it was because it was a cheap hoop or what, but at the very end I glued the felt to the sides of the hoop in the back to keep it from slipping. (I did this after the whole thing was complete). I can thank my mom for that wonderful idea :)
I had to figure out the best way to transfer the image. I ended up freehanding it with chalk. In the end it was hard to get all the chalk lines off the felt, but I don't know what else I could have done.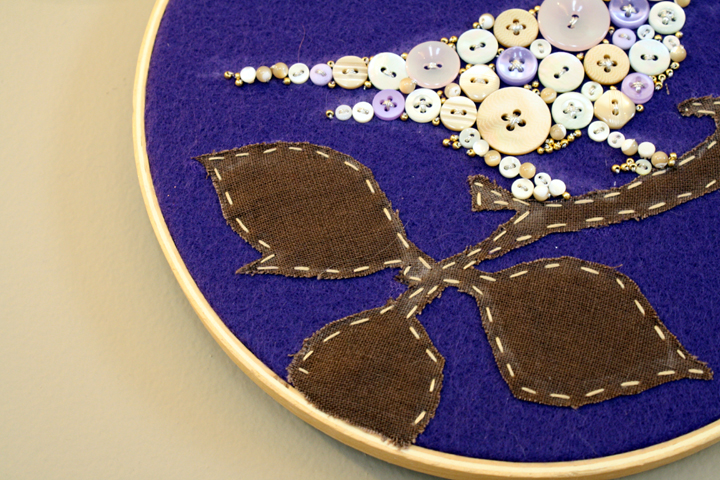 After transferring the image, I cut out the branch fabric to the appropriate shape and sewed it to the felt with contrasting stitching to give it a rustic look.
Next was the hardest part by far. I took all my buttons and placed them on the felt til I thought they best filled up the bird shape, making sure I got a good variation in colors, shapes, etc. I used pins that i stuck thru the button holes and then thru the felt to hold the buttons in place while I began my sewing.
I chose a silvery thread and just started at one end, sewing each button on. I used the same thread for several buttons until I needed a new piece. In other words, I didn't sew it off after each button.
The buttons shifted a lot while I was doing this and it was super frustrating to keep rearranging it, but again I don't know what a better way to do it would have been.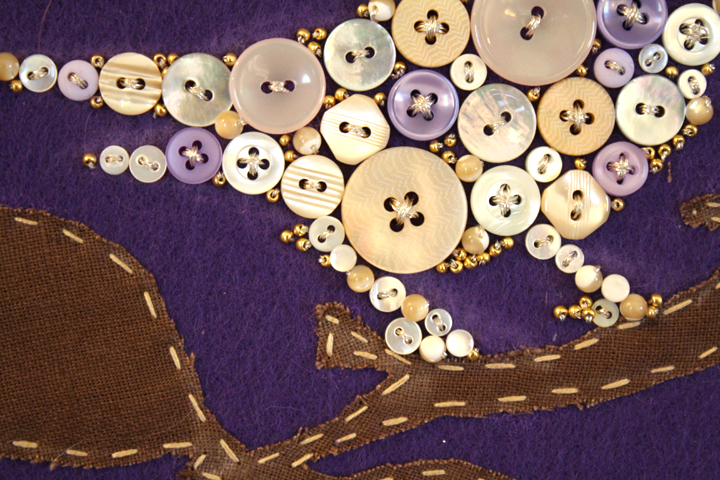 In the end, to make it look more like a bird and less like a bird-like blob, I used little plastic and glass beads to fill in the empty areas that were too small for any buttons. It seems like the inspiration button bird lady did something similar.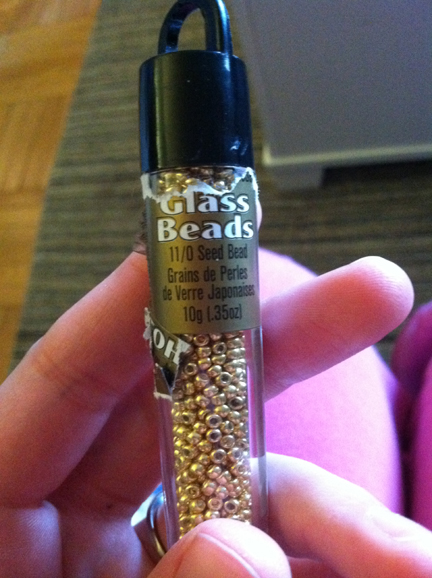 This project was NOT easy. I definitely cursed the day I decided to attempt this multiple times during creation of my button bird. But in the end, I love how it came out. And Nate's mom loved it too! I hung it in her bedroom over a little table she has and I think it looks great :)