**Before getting into today's post, if you're a WordPress,com blogger, please read my last post! I made some changes to my blog and if you were "following" me before, you won't be anymore until you make the changes in that post!**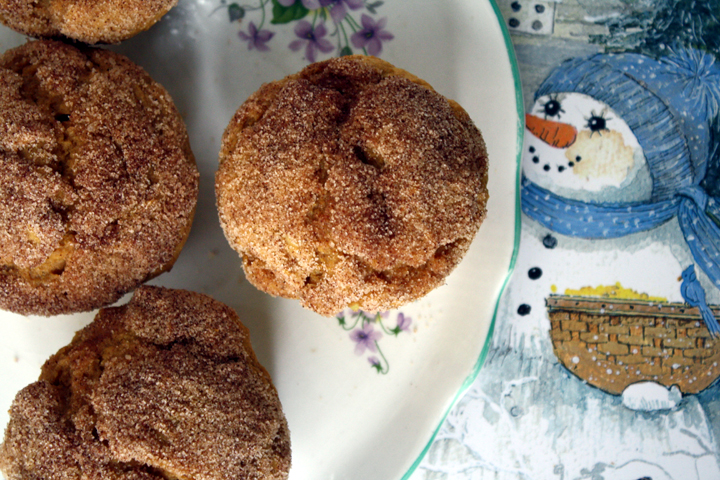 I don't know the last time I ate a donut (I'm not counting the two bites I snuck at work on Friday when I was being tortured by the smell of Krispy Kreme's someone brought in.)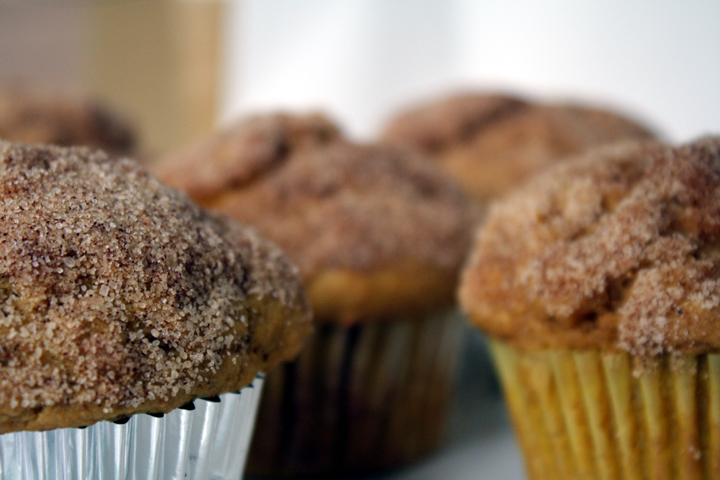 I mean we all know donuts aren't good for you, although Dunkin Donuts might say differently.
There are tons of those baked donuts going around the food blogs lately. Honestly though, I don't think you can pretend a baked donut tastes like a fried one…so why bother. That's where this recipe comes in.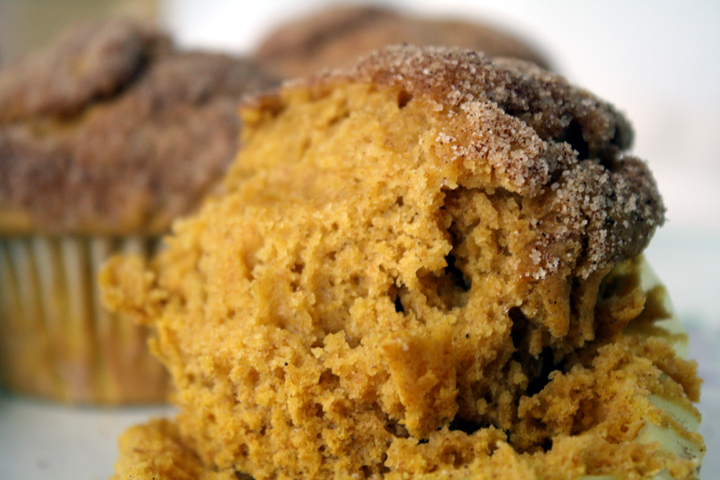 I'm not pretending these are donuts. Nope. These are muffins through and through. But if you love the taste of a cinnamon sugar donut then you *might just like these too.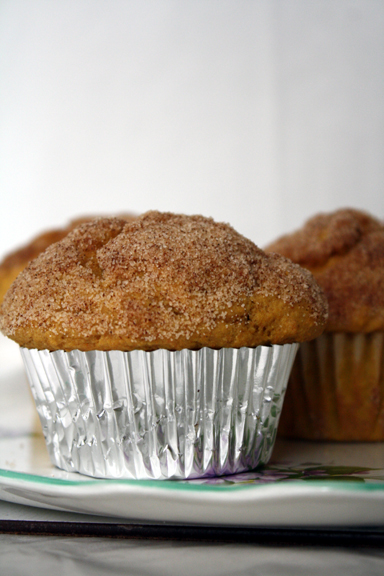 Blog-checking lines: The Daring Bakers' February 2012 host was – Lis! Lisa stepped in last minute and challenged us to create a quick bread we could call our own. She supplied us with a base recipe and shared some recipes she loves from various websites and encouraged us to build upon them and create new flavor profiles.
Quick bread is an American term used to denote a type of bread which is leavened with leavening agents other than yeast. Quick breads includes many cakes, brownies and cookies, as well as banana bread, beer bread, cornbread, biscuits, pancakes, scones, soda bread, and in this instance: muffins.
Pumpkin Donut Muffins
Very slightly adapted from Cait's Plate
makes 12 muffins
10 tablespoons (1 1/4 sticks) unsalted butter, room temperature
2 cups white flour
1 cup whole wheat flour (or omit whole wheat flour and add an additional cup of white flour)
2 1/2 teaspoons baking powder
1/4 teaspoon baking soda
1 teaspoon salt
3/4 teaspoon pumpkin pie spice
1/3 cup milk
1 1/4 cups pumpkin puree
3/4 cup light brown sugar
2 large eggs
Topping:
3/4 cup granulated sugar
2 1/2 teaspoons ground cinnamon
1/4 cup (1/2 stick) unsalted butter, melted
Preheat oven to 350 degrees. Line muffin pan with paper cups.
In a medium bowl, whisk together flour, baking powder, baking soda, salt and pumpkin pie spice.
In a small bowl, whisk together soymilk and pumpkin puree.
In a large bowl, using an electric mixer, beat butter and brown sugar until light and fluffy. Beat in eggs, one at a time, scraping down bowl as needed.
With mixer on low, add flour mixture in three additions, alternating with two additions pumpkin mixture, and beat to combine.
Using an ice cream scoop, fill each muffin cup with batter and bake until a toothpick inserted in center of a muffin comes out clean (about 25- 30 minutes).
Meanwhile, in a medium bowl, combine granulated sugar and cinnamon. Let muffins cool 10 minutes in pan on a wire rack.
Working with one at a time, remove muffins from pan, brush all over with butter, then toss to coat in sugar mixture.
Let muffins cool completely on a wire rack.